(testimony of a backslidden atheist)
This talk features my personal testimony which is featured in the book "You Can Know God Exists" by Ray Comfort. In this talk I look at what is a biblically sound testimony of God's miraculous work in converting the soul through the preaching of the Gospel of Jesus Christ and proclamation of His written word. I share the details of how I endeavored to beat upon His Word with the intent of disproving it. After a few years of hammering upon the inveterate anvil of God's Word; I had been worn out. In the end, He converted my own life from hating Him and denying His existence to serving Him and praising His Name for His glory!
"But without faith it is impossible to please him:for he that cometh to God must believe that he is, and that he is a rewarder of them that diligently seek him." Hebrews 11:6
It would be my honor to praise God with your congregation or group as I am always humbled to share how God worked miraculously in my life and to encourage others that their salvation is or can be just as miraculous!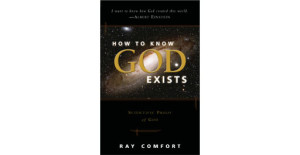 click image to learn more about this book