Why The Anvil Ministry? I'm glad you asked! It has to do with my personal testimony as a permanently "backslidden" atheist and how I endeavored to destroy the Bible by beating upon it with the supposed superior intellect of an atheist. I beat upon the Scriptures with intense hatred and force as a hammer upon The Anvil. Finally God's Word triumphed as I saw the light of the Gospel and put my faith in Jesus. Some years back I came across this poem that sums it up nicely: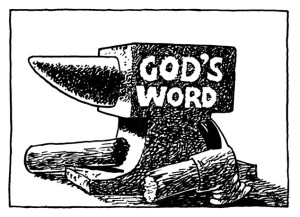 The Anvil… God's Word
Last eve I passed beside a blacksmith's door
And heard the anvil ring the vesper chime:
Then looking in, I saw upon the floor
Old hammers, worn with beating years of time.
"How many anvils have you had," said I,
"To wear and batter all these hammers so?"
"Just one," said he, and then, with twinkling eye,
"The anvil wears the hammers out, you know."
And so, thought I, the anvil of God's word,
For ages skeptic blows have beat upon;
Yet though the noise of falling blows was heard,
The anvil is unharmed . . . the hammer's gone.
Author unknown*
If you have not been broken by God's Word would you be so brave as to beat upon His Word?
* I have seen attributions to John Clifford, 1836-1923, but have not found this poem in any of his writings